Products You May Like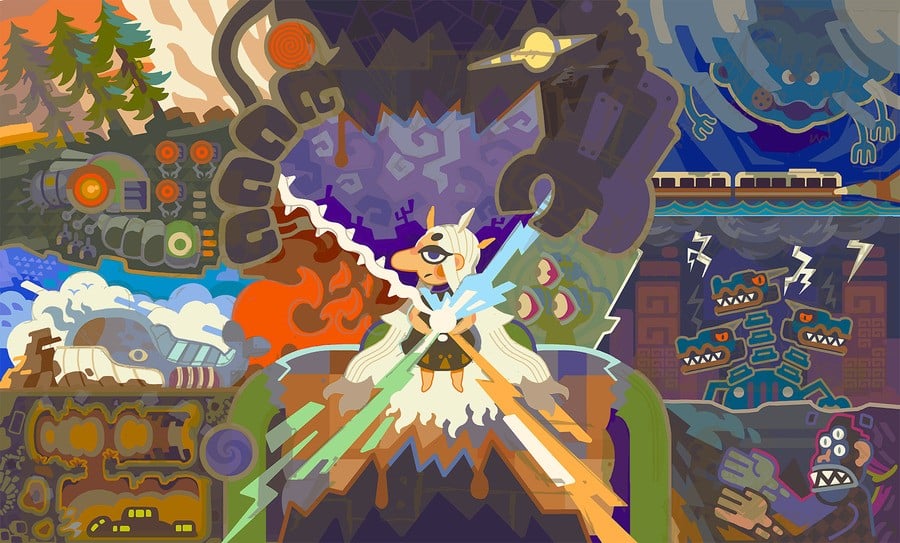 Another busy week in the world of Nintendo has flown by. We've seen the return of a famed arcade racing series, a price 'adjustment' for Switch in Europe, the 20th anniversary of a treasured console, and a surprise Switch firmware update that included a much-requested feature: Bluetooth audio support.
After all that it's time to chill out and discuss our weekend gaming plans. A few members of the Nintendo Life team have done just that below, so feel free to give our entries a read and then join in with your own via our comment section. Enjoy!
Tom Whitehead, deputy editor
I crumbled and picked up Eastward, like a lot of people it seems, so that'll be my long Switch game to tackle while I wait for Metroid Dread to finally arrive. My backlog quest also continues, as I aim to finish a playthough of Oxenfree and actually see Shinsekai: Into The Depths through to the end (I recommend both of them, especially with headphones).
Elsewhere I've been playing The Artful Escape, which is very simplistic in terms of gameplay but a lot of fun to experience; it's colourful, psychedelic and sounds amazing. I'll probably finish that by the end of the weekend.
PJ O'Reilly, reviewer
Hello. This weekend I'm going to revving my engines review style with RiMS Racing, smashing some cars into some trees in Rush Rally 3 and making some time to finally get stuck into Eastward. I picked up Rush Rally 3 for just a couple of quid last week in the eShop sale and I've been mightily impressed with its fast and fun arcade handling, not as punishing as more sim-minded efforts, it still pushes your skills when you attack the tracks hard enough.
And as far as Eastward goes, well, everyone's been going on about it incessantly, so I feel I need to get stuck in and see what I'm missing. FOMO innit. Have a good weekend whatever you're up to or playing!
Ollie Reynolds, reviewer
Hey folks! This weekend I'll be jumping into Eastward, which looks absolutely delightful. I'm a real sucker for pixel graphics and the visuals here look phenomenal, so hopefully the gameplay holds up too!
I've got nothing else planned for the Switch this week, but will be spending a bit of time with Yakuza: Like A Dragon and Superliminal over on the Series X. I absolutely loved Superliminal on the Switch, so I'll take any opportunity to play through it again; highly recommended, indeed!
Gonçalo Lopes, reviewer
Wow, it has been a hot minute since I wrote one of these. My renewed love for the Game Boy Advance means I am starving for some more Metroidvania action after revisiting to completion both Metroid: Zero Mission and Metroid Fusion during my extended break… might revisit Castlevania: Aria of Sorrow next. I am currently replaying Front Mission on the SNES, a masterpiece which should take me several more weekends to clear. So all that's left is my extensive, ever-growing and legendary Switch backlog and this last week's releases. To be honest I am unsure what to pick up next because No More Heroes III was such an incredible ride it will be hard to find a proper replacement.
Game of the week is unsurprisingly Cruis'n Blast. I can not believe the absolute lack of arcade racers on the market this generation so when a good one comes along it is always a priority. Time to go unlock some more crazy vehicles.
---
As always, thanks for reading! Make sure to leave us a comment below with your weekend gaming plans!